Should You Buy Glide™, Gelé or Reléveum®?
At the beginning of October, Tiny Pioneer took a trip to Cardiff to attend a conference of Pelvic, Obstetric and Gynaecological Physiotherapy. We were there to exhibit Desert Harvest's products, in particular the Aloe Glide™, the Aloe Vera Gelé and the Reléveum®. Cardiff is a long way from Tiny HQ, so we travelled down the night before, set up our stand early in the morning, and spent the exhibition day meeting with dozens of physiotherapists who specialise in treating pelvic pain disorders. Some practitioners had already heard of Desert Harvest, which was great to hear, and one had just returned from visiting an Aloe Vera farm in Mallorca, which was especially exciting! We gave out goody bags, of course, and plenty of people requested sample sachets to give to their patients, so if you are visiting with a pelvic physio soon, do ask if they were at the event and came to see us!
In the lead up to the event, Desert Harvest gave us lots of new information about the Aloe Glide™, the Aloe Vera Gelé and Reléveum® to help us prepare for any technical questions the physiotherapists might ask. It was great to learn so many new things and we'll be updating the product pages in the next few weeks to make them more comprehensive. However, one thing we really loved was this infographic that Desert Harvest sent to us, showing which products go with which vulvovaginal conditions. We wanted to share it with you, as we think it's a great resource for helping to select the right product for your needs!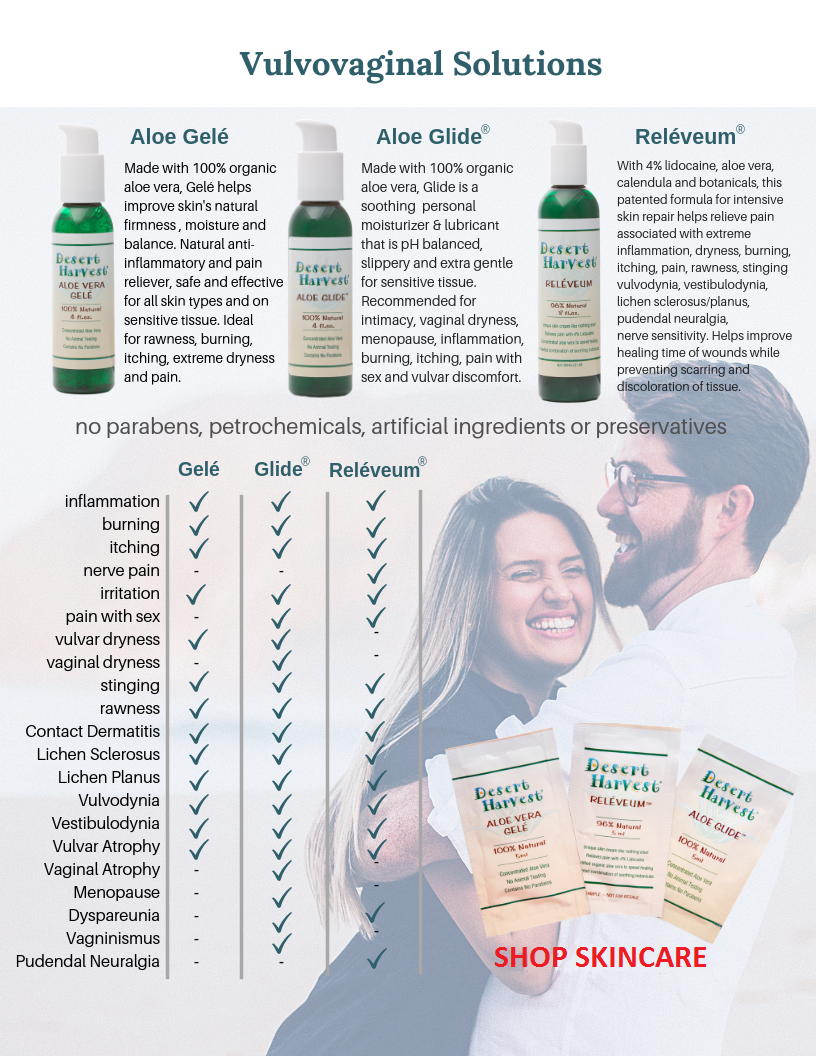 One thing you can't tell from the infographic is what each of the three products feels like. The Aloe Glide feels just like a lubricant and is licensed for internal vaginal use, so you can do with it all the things you'd do with a normal lubricant. The Aloe Vera Gelé is thicker and less slippery than the Glide. It's not officially intended for internal vaginal use, but Tiny has used it in this way and knows many customers do too. It doesn't really have lubricating properties, but it is very cooling and soothing. Aside from vulvovaginal applications, the Gelé has so many uses that Tiny wrote a whole blog post about it – it's her favourite product at the moment! The Reléveum® feels more like a lotion or a runny cream. It can be used anywhere on the body, though its appearance and smell make it more of a utilitarian product than a cosmetic one. The 4% lidocaine gives it excellent numbing properties, so it's the best of the three products for when a higher level of pain relief is needed. Tiny found that Reléveum® works brilliantly to block PGAD feelings too, which can be great at bedtime when the sensations might be harder to ignore.
Hopefully that, along with the more detailed information on the product pages, will help you to decide which of the skincare products is best for your needs. If you're still unsure, you can click here to request samples (one sample request per household and not applicable if you've purchased before). Practitioners may also request clinical samples by clicking here.
Copyright © Tiny Pioneer 2018