The Many Uses of Desert Harvest Aloe Vera Gelé
Sunburn season is already well under way in the UK and here at Tiny Towers we think every home should have a bottle of Desert Harvest Aloe Vera Gelé on hand for at the end of a sunny day! Tiny is a real English rose – or a pasty prickle, depending on your perspective – so some degree of sunburn on the shoulders is an annual occurrence for her even if she's really careful. She tried some Gelé in place of after sun lotion a couple of years ago and she is totally converted – it's amazing! In fact she's discovered that it's useful for so many other things besides intimate comfort that she thinks it should be a household staple for everyone! We therefore thought we'd write a light, summer blog about the many things we've tried it out for and a few things we haven't! Please note that we're not doctors and we're not saying the Gelé cures any particular ailments – it's just a fun list of things we've tried it out on and have personally liked.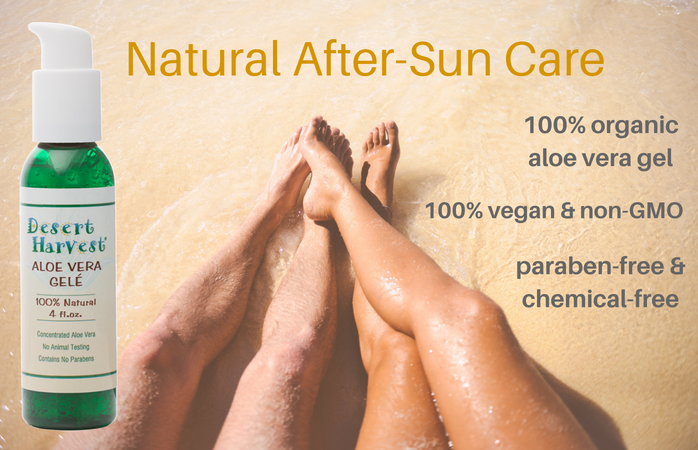 Sunburn
Aloe vera is renowned for soothing and healing burns and Desert Harvest Gelé is superb at cooling sunburn. It really takes the heat and sting away and you can even pop it in the fridge for extra chill factor! Aloe vera contains anti-inflammatory substances and promotes skin cell regeneration, so as well as providing symptomatic relief, it also shortens recovery time. As any pale person knows, bad sunburn can hurt for days afterwards, so anything that helps it to heal faster is welcome. Even conventional doctors are happy to recommend aloe vera gel for sunburn, so it's one of the rare complementary remedies that have the orthodox seal of approval too! Desert Harvest's Gelé is moisturising (see below), so applying it to sunburn also helps to prevent or reduce peeling.
Minor burns
The same actions that make aloe vera useful for sunburn are also helpful for minor burns. That's why so many people keep an aloe vera plant in their kitchen window. If you do burn yourself, run it under the cool tap for at least two minutes – it's astonishing how many people think a few seconds is sufficient – and apply the aloe vera after that. It will help to prevent blistering and scarring, as well as providing pain relief to the area. If the burn is severe enough to turn your skin white or black, or to blister it seriously, always seek medical assistance. As with sunburn, Desert Harvest Gelé will not sting.
Minor cuts and blisters
The fatty acids and salicylic acid in aloe vera possess antimicrobial properties, so applying it to topical wounds creates a protective layer and helps to prevent infection. Aloe vera also increases blood flow to the skin and contains hormones and sugars which accelerate the healing process, while anti-inflammatory and analgesic agents provide pain relief.
As a moisturiser
Tiny's mum loves using Desert Harvest Aloe Vera Gelé in place of hand cream. During the winter months she gets cracked, red, sore hands which she's only recently realised are caused by handling wet coal. Last winter, Tiny suggested she apply some Gelé to cool and soothe them and it provided great temporary relief. Tiny's mum noticed that it also made her hands feel really soft and nourished, so she's stuck with the Gelé as a hand cream ever since!
Aloe vera makes a superb moisturiser, because not only does it contain amino acids that hydrate and soften the skin, it also contains zinc which tightens pores. It has firming and lifting properties, thanks to the proline within, and it contains vitamins A, C and E which protect skin against free radical damage. Salicylic acid provides anti-inflammatory and antibacterial effects. The net result? A moisturiser that's also great for breakouts, has anti-aging properties and is safe to use on sensitive skin! Wowzer!
To soothe tired eyes
Because of its cooling, astringent, anti-inflammatory and circulatory properties, aloe vera is soothing for tired or puffy eyes. The Desert Harvest Gelé is ideal as an eye gel, because it's nice and thick and it doesn't have any preservatives, colourants, or perfumes in it. Anecdotally, it appears it can also be used to reduce the appearance of dark circles under the eyes, although as these are often indicative of an underlying health issue, it probably depends what's causing them. Aloe vera can reduce skin hyperpigmentation, as it reduces melanin production, making it great for age spots or sun spots. As discussed above, many of its components confer anti-aging properties, so gently applying some gel around the eye area can't be a bad idea!
As a hair conditioner
If you use hair products that are free from parabens, silicones, sulphates, artificial colours and artificial fragrances, you may have noticed that the conditioners often list aloe vera among the first few ingredients. This is because it helps to moisturise and detangle. If you have dandruff or a sensitive scalp, dry hair, or tangly hair, you might want to try making a rich hair treatment out of some Desert Harvest Aloe Vera Gelé. Alternatively, you could cheat by trying some of their readymade shampoo and conditioner – Tiny loves it! She also loves Acure hair products, which have aloe vera as a main ingredient. She has quite fine hair that's prone to be oily, but since switching to natural haircare products she gets loads of compliments about how long and healthy her locks look.
To tame frizz and flyaways
Desert Harvest Aloe Vera Gelé is pretty similar in texture to those products that you can buy to stroke onto hair to flatten flyaways, add shine, or give extra moisture to dry hair. Tiny has straight, fine hair that is more prone to oil than dryness, so it's not one she can really test, but she definitely thinks it would be worth a go for people with thicker, frizzier hair. Many commercial hair products designed to control frizz or add condition are loaded with silicones to make them slippery and to give smoothing properties. Silicones are really bad for hair and skin in the long term and they're also harmful to the environment and marine life. We think Desert Harvest's Gelé might offer a great alternative! If you give it a try and it works, do let us know – we're really curious about this one!
As a shaving gel
We've been meaning to try this at Tiny Towers for ages, but we never remember until we're actually in the shower. We were under the impression that we'd had a brilliant original idea, but it turns out it's been done before! Tiny hasn't used shaving gel for ages – she switched to olive oil a few years ago and then got fed up of cleaning the mess it left around the bath (FAR too slippery to be safe in the shower), so she now uses hair conditioner for shaving the legs and intimate wash (made out of aloe vera, of course!) for shaving the secret places. Because both the Aloe Glide and the Aloe Vera Gelé were created to moisturise and lubricate the intimate area, we think they'll make smashing media for shaving.
On cold sores
Because of the skin regenerating, moisturising, anti-inflammatory, and pain relieving properties already discussed, aloe vera can help to soothe and heal cold sores. What's especially interesting though is that aloe contains zinc and people who suffer with cold sores often experience an outbreak if their zinc levels are low. Zinc creams have been found to shorten the duration of cold sores, so it makes sense that aloe vera would be an excellent choice of topical intervention. The beauty of Desert Harvest Gelé is that it's quite thick, so it can be either rubbed into skin or left on top to create a layer, depending on personal preference.
On Athlete's foot or other fungal skin problems
Aloe vera contains six antiseptic agents, including lupeol, salicylic acid and cinnamonic acid that inhibit the action of fungi, bacteria and viruses.
When choosing an aloe vera product to use on the skin, especially if you want it for burns and wounds, it's important to choose a brand that contains a high percentage of stabilized aloe vera – ideally without artificial fragrances, preservatives or colours, which may make the product more likely to sting or further irritate the area. (Such ingredients also tend to be harmful to both ourselves and the environment, so they're best avoided in any case.) The most natural skincare products have ingredients labels that you can actually understand – they're not full of technical jargon and laboratory created substances.
Desert Harvest Aloe Vera Gelé is made with 80% aloe concentrate, from organically grown aloe vera plants that are cold processed to retain all of the beneficial properties. It contains the most therapeutic levels of aloe vera possible in a completely natural product. It is free from parabens, colourants, artificial fragrance, artificial preservatives, petrochemicals and phthalates, is suitable for vegans and is not tested on animals. We think it's kind to your skin, kind to animals and kind to the environment and we definitely think every home should have a bottle! At the time of writing there are three bottles open in Tiny's house and pretty much everyone she knows has had a bottle foisted on them for minor medical emergencies – that's without even getting into its usefulness for soothing genitourinary issues! So, what are you waiting for? Snap one up for your first aid box before the sun goes in!
Copyright © Tiny Pioneer 2018