Tiny's Wee Trip!
The end of November was an exciting time for Tiny Pioneer, as we finally came face to face with Desert Harvest at the annual conference of the British Association of Urological Nurses in Glasgow! Desert Harvest had flown over to exhibit at the conference and Tiny Pioneer was invited along to help out on the stand. Of course we were delighted to go: it was a wonderful opportunity to promote our little business; a great chance to help Desert Harvest raise awareness of their products within the urology community; and both parties were finally able to put faces to names!
Team Tiny packed up our trunks on Saturday 25th and drove north, arriving in the city just in time to cook our tea (turkey stir fry, should you be interested). It was an early start on Sunday morning, as we headed over to the SECC to help set up the stand. The venue wasn't quite ready for us when we arrived, so after we'd said our hellos and found our approximate stand position, we went our separate ways for the afternoon. We met again at 5pm and Tiny stuffed brown bags full of goodies for the nurses while the more experienced people erected the screens. There is a picture of the stand below, should you like to see it – there wasn't much room to stand back for a better shot, so it's rather a close-up, but it's the first time we've included a picture in a blog in any case, so we're pleased with our technical progress! Incidentally, it was absolutely freezing in the exhibit hall and a big cup of Tiny's Brew was imbibed as soon as we arrived back at the apartment!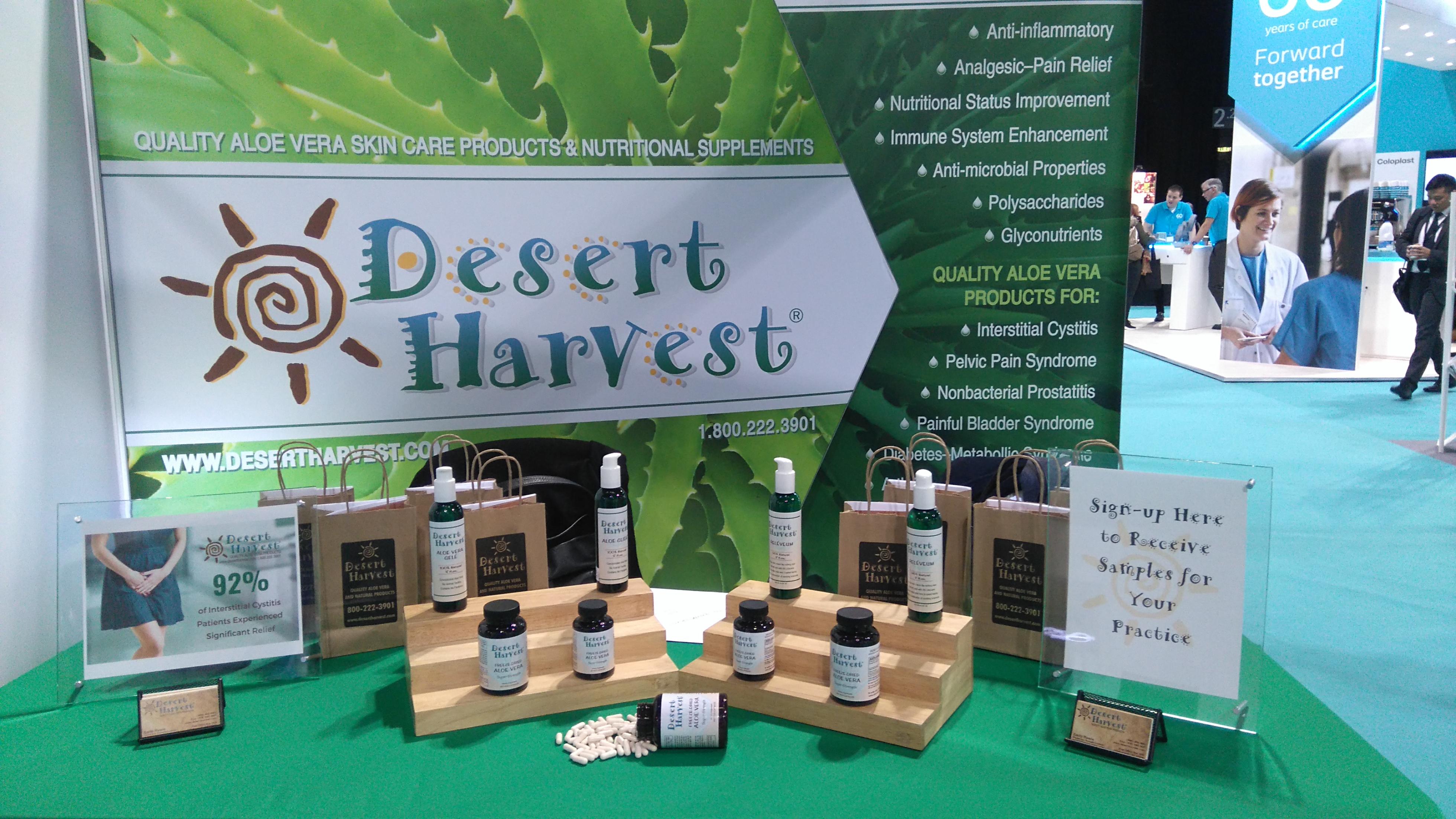 On Monday, Tiny Pioneer and Desert Harvest met at 8am and spent the next eight hours getting to know each other and handing out sample bags to nurses. It was really exciting for Tiny to learn more about Desert Harvest and exactly how their Super Strength Aloe Vera Capsules are produced. We've certainly picked up plenty of ideas for future blog posts! The response we got from the nurses was really encouraging – apparently it's rare for complementary health companies to exhibit at medical events like that and people were telling us how they'd been looking for our stall and that we were the 'must visit' location of the conference (bar the dining area, of course!). We know we're biased, but we think we had the most exciting goodie bags and the busiest stand – hurrah! To be fair to the other exhibitors, we were the new kids on the block as far as UK medical conferences are concerned, so we definitely had novelty value, but the reception we got from delegates and exhibitors alike was fantastic.
On Tuesday, it was another 8am start and a slightly quieter day, which turned out to be a good thing as we gave out ALL our sample bags! DH were amazed – they said they have NEVER run out of samples at an event before, so it looks like the British nurses rose to the occasion and impressed with their enthusiasm! After lunch, it was time to break down the stand and we all headed off for an afternoon tea before saying goodbye. Team Tiny packed up and headed home, hitting Tiny Towers at 10.45pm. Luckily, Wednesday was a day off and we felt very grateful we were only driving a few hours south instead of embarking on a three hour drive and two flights like poor Desert Harvest.
We really enjoyed meeting with Desert Harvest and getting the chance to speak with so many nurses about the role of their products in the treatment of interstitial cystitis and other disorders. IC is such a debilitating and complex condition, while diagnosis and treatment strategies are often painful, with limited success. It is so heartening to think that several urology nurses may now have another option to tell their patients about; Tiny really hopes that many sufferers will benefit as a result. We can't wait to further build our relationship with Desert Harvest and to continue to spread the word among the medical community in the hope of bringing relief to more sufferers.
Tiny was so grateful to Team DH for their warm welcome and the generous way in which they shared their knowledge, ideas and stories. They were a truly lovely bunch of people and although Tiny's nerves couldn't take too many of those events (she wasn't so much 'pushing the frontiers of complementary healthcare' as 'raiding the cabinet of conventional tranquilisers' to cope with the nights away, the early mornings and the city dwelling!) she feels really honoured to have met the Desert Harvest crew and to have been a part of the conference.
If any Tiny Pioneer customers are due to attend urology appointments soon, be sure to ask your nurse if they met us! To celebrate the success and pass the good vibes on, Tiny Pioneer has reduced the price of Desert Harvest Super Strength Aloe Vera Capsules for a limited time only! We don't really do 'sales' – we usually already supply capsules for a little under Desert Harvest's retail price once the exchange rate has been taken into consideration, with cheaper shipping costs and quicker delivery times, so we like to think we offer great value all year round. We also freely point out that if you're buying in bulk, their discount policy beats any sale we could offer anyway – we're very honest like that! However, we're so thrilled to have been a part of the BAUN conference that we're making an exception here, to thank our existing customers and welcome any new ones who might discover us in the wake of Glasgow. We know it's not much, but every little helps!
Wishing you the best of health,
Tiny Pioneer