Are You Ready To Go Natural? Six Personal Care Brands Tiny Loves!
This is not a sponsored or affiliated post. Some of the products are available from a range of UK stores in addition to the manufacturer's own website.
It was the Summer Solstice last Friday and here in the North West of England we actually got the kind of sunshine that befits such an occasion! Across the world, for thousands of years, people have used solstices as an excuse to connect with nature, appreciate the world, and inwardly reflect. Some cultures believe that solstices have special spiritual significance and are times for new beginnings and transformations. Recently in the UK, there seems to have been quite a lot of media coverage about the environmental and health dangers of plastics in body care products. With summer holidays right around the corner and in honour of the Summer Solstice, I thought I'd write a blog post about some plastic-free personal care products that you might pack in your suitcase if you're going away! Read on to discover the brands/products that Tiny loves that can help minimise your exposure to toxic ingredients and protect the natural world!
All of the brands listed below are, to the best of my knowledge, free at the time of writing from:
These are synthetic preservatives used in all sorts of skincare, haircare and cosmetics. They are known endocrine disruptors, meaning they can cause hormonal imbalances.
These are used to coat hair and skin to give a glossy or smooth appearance. However, they can build up over time, leading to weak hair and dull, congested skin. Worse, they seep into waterways and eventually bio-accumulate in aquatic wildlife.
These are the little pieces of plastic put into face scrubs and similar to provide an exfoliating effect. They are not biodegradable and end up in water supplies, where they not only cause pollution, but can also be mistaken as food by aquatic animals. ALWAYS look for exfoliators that use ingredients such as sea salt, oats, or rice in place of microbeads.
None of the brands listed below are tested on animals.
Sodium lauryl sulphate and sodium laureth sulphate
These are foaming agents used in shampoo, shower gel, face wash and similar. They can cause skin irritation and dryness.
Artificial colours
Artificial fragrances
Formaldehyde
This is another synthetic preservative that is also a known carcinogen.
These are used as plasticisers to create flexibility in products, or as solvents to stabilise fragrances. They are known endocrine disruptors and can cause cancer – some have even been banned in the EU.
They're each individually free from various other things too, but it's hard to find lots of common overlap between six brands that make products for very different occasions! I'm not going claim that I noticed any health benefits from switching to natural personal care, but reducing the toxic burden on my body by limiting my exposure to harmful chemicals can only be a good thing. I know most of you who read these posts are dealing with chronic health problems, so your bodies already have more to deal with than most. Please consider being kind to yourself and the world around you by making some changes to your personal care routines. There are numerous other brands to choose from in doing this – these are just ones that I have personally tried and can really recommend.
Neal's Yard Remedies
Did you know that Neal's Yard Remedies was the first skincare company to be awarded 100% for ethics by The Good Shopping Guide: Ethical Comparison? And that it's a carbon neutral company? And that it was the first UK brand to achieve Look for the Zero certification, showing that it uses zero plastic ingredients in its products? Before I discovered Neal's Yard, I'd tried a fair few natural, ethical skincare brands, but to be honest lots of them just didn't work very well. Neal's Yard products work brilliantly – the shower gels and face washes lather; the moisturisers feel nice and non-sticky; they do ranges for all skin types; they have special skin treatments like serums and masks. The packaging is also lovely and the products last quite a while. If you've used luxury skincare brands before, you'll know that although they're expensive, the products tend to last longer because there is less water added. In general, cheaper products have more water added, so they run out faster. Neal's Yard is comparable in price to counter brands like Clinique or Clarins, but it's also comparable in quality. If you weren't really into natural skincare and someone gifted you some Neal's Yard, you wouldn't feel that you'd been given inferior products.
The Neal's Yard Skincare Kits are great for taking on holiday!
If you're off on holiday, I can recommend the little face care travel sets – one will easily last a fortnight and they're a great way to try a range of products without investing too heavily if you're new to the brand. They make them for various skin types – I use the Palmarosa Face Wash for oily skin. I also love Yarrow and Comfrey Moisturiser and Citrus Shower Gel. I occasionally use Orange Flower Shampoo and Conditioner – I do like the shampoo, but the conditioner doesn't detangle anywhere near enough for my long, fine hair, so I only use these occasionally. However, one of the haircare brands I do love is…
Acure Shampoo and Conditioner
Acure was the first brand of natural haircare I found which actually performed just like mainstream haircare. I'd tried a few health shop favourites before, but they rarely foamed well and just made my hair look lank and ratty. Acure products are fantastic – they foam every bit as well as ordinary products, smell lovely, and leave my hair feeling really soft. I like the Curiously Clarifying Lemongrass and Argan range best as the conditioner is really detangling and my hair looks great after I've used it. If I use them every time I wash, my hair gets a bit oily as they're quite rich, but they're a regular feature of my haircare routine and I definitely think you should check out the Acure range and give some of their products a try! They use aloe vera as the main ingredient in their shampoo and conditioner, so they're definitely a Tiny Pioneer approved brand! I've never used their skincare, so I can't tell you anything about that.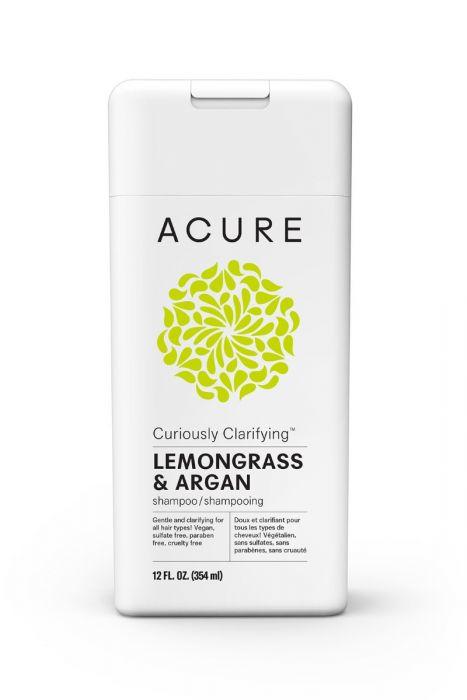 Desert Harvest Shampoo and Conditioner
This is hands down my favourite shampoo and conditioner and I'm not just saying that because we sell it! Actually, we never intended to sell it, as we don't really want the store to become a beauty store – the focus here will always be on health. I simply bought some because I wanted to use it myself, but then a customer particularly asked if we'd add it to the store, so we did. I cannot tell you how much I love it. The shampoo foams brilliantly – I presume aloe vera must have naturally foaming properties, because it's also a key ingredient in the Acure product line and I notice it in lots of natural skincare products. It can also be used as a shower gel, though I don't often use it on my body. The conditioner is amazing. I have no idea how it's so detangling when it's made from all natural ingredients, but it outperforms many mainstream brands. I have super long, very fine, highlighted hair, so it's a big ask of any conditioner to get rid of my tangles, but Desert Harvest does a great job. What I also love about it is that you literally cannot overdo the conditioner. You know how sometimes if you put too much on, you end up with flat, oily roots? That just doesn't happen with Desert Harvest. If I want a really good hair treatment, I put it on my hair thickly from the roots to the tip and massage it in, leaving it for a few minutes. When I rinse, I have hardly any tangles and my hair never dries oily. I'm convinced aloe vera is actually magic!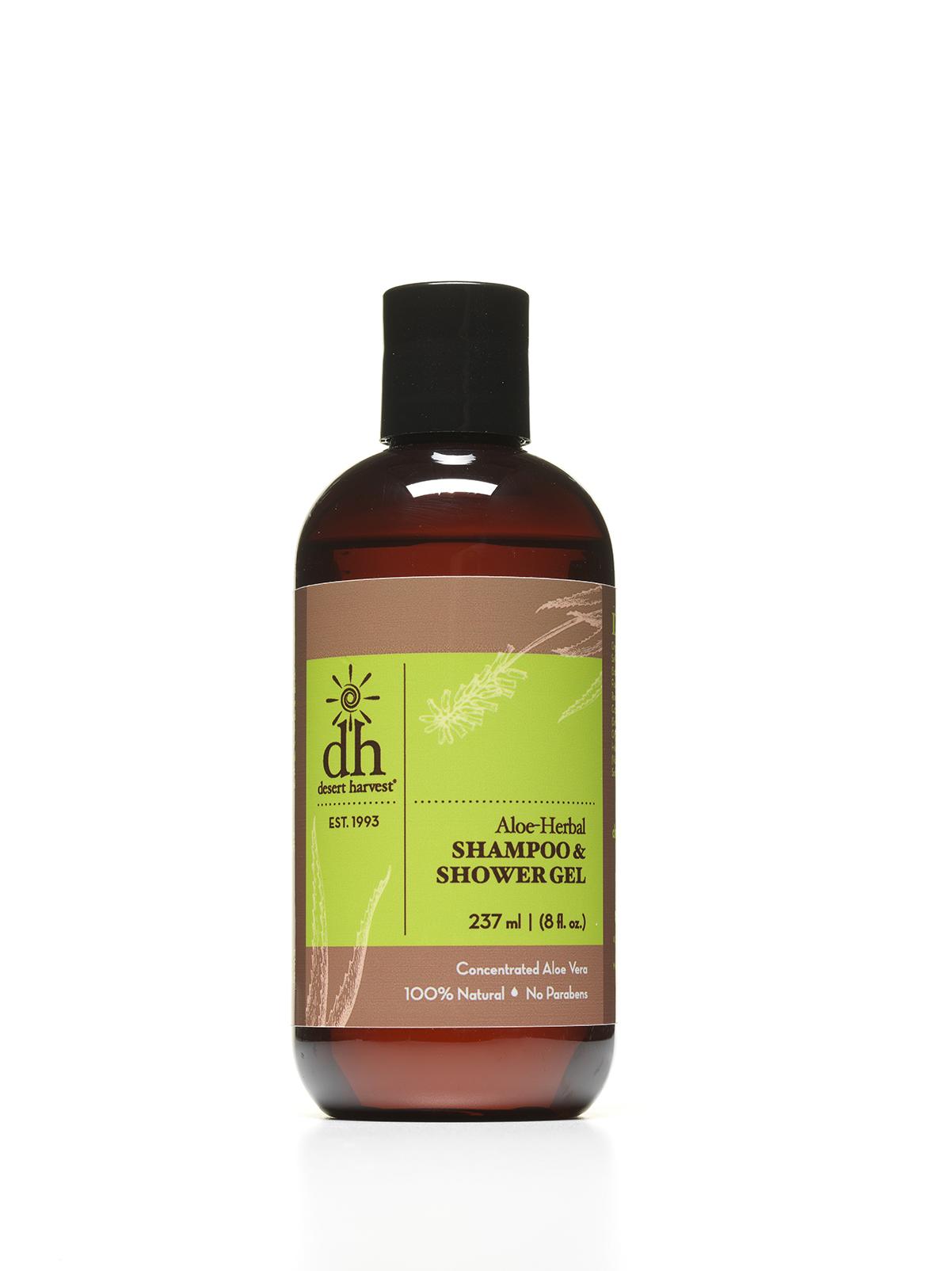 Whenever someone tells me my hair is looking nice, it's inevitably Desert Harvest that I've washed with. And the day after washing, my roots are never as oily with Desert Harvest as they are with some other brands. (Incidentally and counterintuitively, I've found if I rub a small amount of Desert Harvest Aloe Vera Gele onto the roots, this seems to make them look a bit less oily on second-day hair and also smooths out flyaways.) The main ingredient in Desert Harvest's haircare is obviously aloe vera, which confers all the anti-inflammatory, replenishing, healing properties to the scalp as it would to any other part of the body. You can read more on the linked product pages – I'm too lazy to write it all out again here!
Faith in Nature Feminine Wash
Anyone who has interstitial cystitis, gets frequent UTIs, or has very sensitive genital skin will be very cautious about what personal care products they use on their secret places. I used to use the UK's leading brand of intimate wash, but when I started switching to more natural and cruelty free products, I wanted an alternative. I highly recommend Faith in Nature Feminine Wash – it lathers well, feels soothing and moisturising, and in no way feels inferior to its less natural rival. I can't find Faith in Nature's overall policy on plastic specifically, but they do use 'all natural' ingredients and I can confirm that there are no synthetics or plastics in the feminine wash. Our good friend aloe vera features high on the ingredients list, so it MUST be a good product, right?!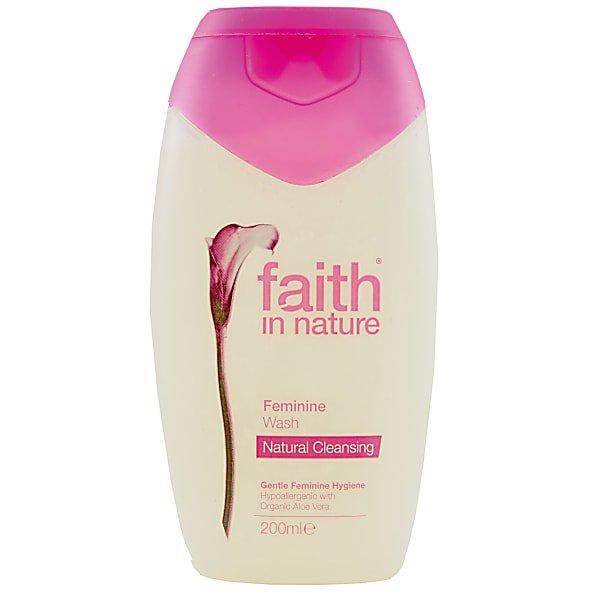 Miessence Deodorant
Let's be honest now, most all-natural deodorants are rubbish. We know we should be trying to avoid aluminium based ones and we know it's better for our body and the environment if we choose natural, but we don't want to smell! I've tried a few natural deodorants, but I've never had one that I'd want to use at ballet class, if I was going out, or in hot weather. That was until I tried Miessence. I can honestly say that Miessence Tahitian Breeze Deodorant is the best deodorant I have EVER used, even in comparison to conventional leading brands. It takes a while to dry, so you'll need to leave it a few minutes before getting dressed, but it feels like a traditional roll-on when you apply it and it works brilliantly. There is no need to apply extra layers during the day and sometimes, even if I change my outfit in an evening, I don't apply fresh, because there is just no need. It performs well no matter what the weather and no matter what I'm doing – it doesn't even let me down at ballet.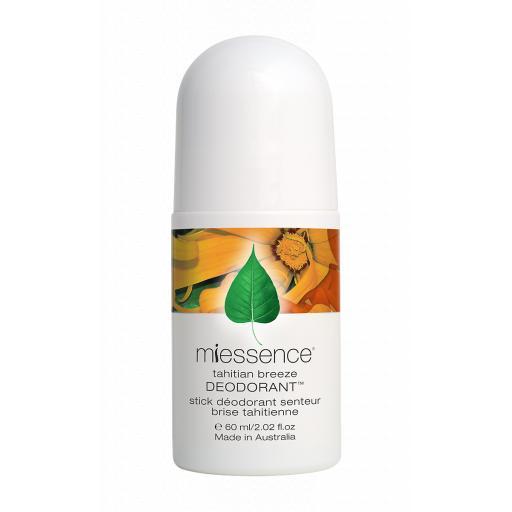 This is my favourite deodorant - it performs better for me than leading conventional brands!
The only two downsides I've found with Miessence deodorant are that your clothes will sweat stain a bit more than with big brand deodorants and it stings for a few minutes if your skin is irritated from shaving. I don't mean that you'll have sweat stains after half a day at work, just that your lighter tops might not give you as many days of wear as your darker ones. Although clothes seem to stain more quickly, Miessence really seems to outperform leading brands on the odour front; even when I put them in the wash, my tops rarely actually smell sweaty. You might think that £7 is a lot to pay for a deodorant, but let me tell you, a 60ml bottle lasts me six months and I use it at least once a day – more if I'm having a shower and getting changed to go somewhere. I have no idea what makes it last so much longer than ordinary roll-ons, but you cannot fail to notice that it does. I love the Tahitian Breeze, but you can also get other types, including fragrance free for the super sensitive. Want to know what the first ingredient on the list is? Aloe vera! If you're off on holiday, I cannot recommend this highly enough, especially since the bottle is really small and suitcase friendly.
I've not tried too many other products from the Miessence line, so I can't let you know how they perform. I like the foaming hand wash (not remotely suitcase friendly) and the Lemon Mirtle Shampoo (but not the conditioner – it doesn't detangle), but I've not tried any of the skincare.
Natracare Sanitary Products
The leading brand of sanitary towels started adding fragrance to them a few years back and I immediately started searching for an alternative brand. In my opinion, it's completely unnecessary and extremely unhealthy to have fragranced products sitting in such close proximity to the genitals for prolonged periods of, erm, periods. The leading brands are also not cruelty free and I was keen to find an animal and environmentally friendly alternative. Natracare are great. They offer liners, pads, winged pads, night time pads, continence pads and tampons in all the same shapes and combinations you'd expect. All are cotton based and free from plastics, perfume and chlorine, making them an excellent choice for the eco-aware and the sensitive. The packaging is biodegradable, as are the towels themselves, and the products/ingredients are not tested on animals.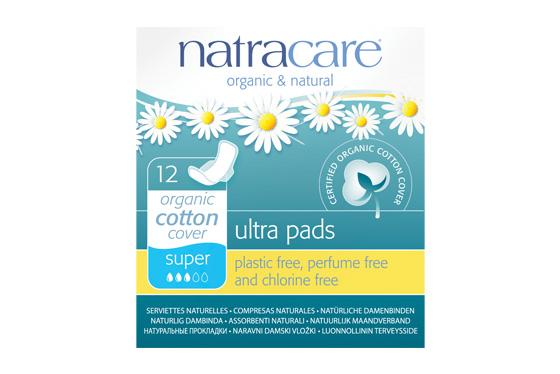 Since developing PGAD I no longer use tampons, but I've used the winged towels and the night time pads, which both perform just fine. I also used to use the panty liners, but for some reason they don't stick very well to bamboo fibres and I now wear bamboo knickers most days! It's a shame, because I was happy with them until then! I still have Natracare panty liners for non-bamboo occasions, but I also use a brand called Gift. Gift are another excellent brand, but they don't score quite as well on the eco-front as Natracare, so I will maybe talk about them another time.
There are lots of other eco-friendly, animal-friendly and natural brands out there, but these are the five that I use day in, day out and really swear by. I'll leave you with a final few tips that aren't brand specific.
Shaving Foam
I no longer use this. I'm sure there are natural, cruelty free brands available, but I have found something MUCH better for use as a shaving medium. Hair conditioner! You will get a much softer shave, your blade will glide really smoothly, and it means you can use the brands above to be sure the ethical credentials are in place. It also means packing one less thing when you go away!
Coconut Oil
This makes a really good makeup remover. Just be aware, a little goes a long way, especially on the eyes! If you get coconut oil in your eyes it doesn't sting, but it does create a film on your eye that takes ages to clear and means you can't see properly in the meantime! I rarely wear makeup, but when I do, I like to use coconut oil and a cotton pad to remove the worst of it, before washing my face properly. I then sometimes use more coconut oil as an intensive overnight moisturiser.
Desert Harvest Aloe Vera Gelé
This can be used as a face and body moisturiser. Fun fact: it was only when I was writing this post about its many uses that I thought, "Wow, Tiny, this product sounds brilliant – why aren't you using it on your own skin?!" I incorporated it into my daily skincare regime and I love it! About five mornings a week it's the only thing I use as a moisturiser – a couple of days a week I top up with Neal's Yard Yarrow and Comfrey. I apply it to my legs after shaving too for an extra smooth finish. You need to take your Gele on holiday anyway, because if you get sunburn, you'll be needing it as an after sun product!
I hope you will consider trying some of the brands I mentioned, or alternative brands with similar values. It's so important to take care of our own bodies, but it's also really important to safeguard the environment and animal welfare.
Happy Summer Holidays!
This blog post is the intellectual property of tinypioneer.co.uk and may not be copied or published elsewhere. You may share a link to the post if you wish.
Copyright © Tiny Pioneer 2019